Back to school is soon!
Choose your fall sport now and s

et yourself apart from the rest
Self-esteem & Confidence | Strong & Healthy Friendships





Sportsmanship & Respect | (An)Aerobic & Mental Conditioning





Teamwork & Leadership | Scholarships at the finest universities
Preregister for our fall "back to school" Introduction to fencing classes now and save 30% off the retail price if you preregister prior to July 20, 2016. This is a newly offered 4 week class meeting twice a week, from August, 20th, 2016 to Saturday, September 17, 2016 at substantial discount from our regular prices. It gives our new fencers time to explore the basics of the sport with no investments in equipment.
On Saturday, Septmeber 17, 2016, meet MFA's new coach, 5 time Olympian (GOLD, SILVER, BRONZE), Fencing World Champion, and World Champion Cyclist Dorina Vaccaroni.
No payment or credit card required to preregister. Payment information will be due July 20, 2016.
We are accepting preregistration for the following 4 week classes for under 18 and adult class.
Introduction to fencing for under 8 years old



Saturday, August 20, 2016 - 9:30am-10:30am
Introduction to fencing for ages 8-10



Saturday, August 20, 2016 - 10:30am-Noon
Introduction to fencing for ages 11-17



Saturday, August 20, 2016 - 4pm-6pm

Adult fencers 18 and over... sign up for a free introductory class NOW and experience the art and sport of fencing! Click here or go to...




Marin Fencing Academy offers group and individual lessons in beginner, intermediate, and advanced Foil, Epee, and Sabre for recreational and competition fencing. We are an accredited club recognized by the United States Fencing Association (USFA) with national and international credentials. Our venue is one of the largest fencing spaces in the west coast.
Our 5400 square foot facility is available for rental or long term sub-lease. Our coaching staff is available for demonstrations and program at schools, businesses, and recreational facilities in the San Francisco Bay area..
A Lifetime Sport
Our coaches have taught fencing to young and old alike. We have had students from 5 to 85. Fencing has been called "physical chess", where strategy and tactics are implemented with physical movements. Speed, strength, and endurance, although important, can be overcome by metal agility. Strategy and technique can overcome raw physical ability. Whether your 5 years old or 85, fencing can prove insightful in so many ways. And yes, it's fun!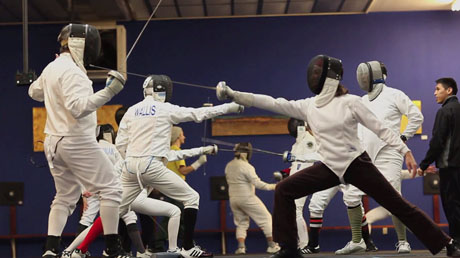 Health and wellness
Mental agility
Scholarships at the finest universities
Discipline in every day life
Pure fun
Schedule a free introductory class today!
Comments or questions are welcome.